EASY WATERMARK TUTORIAL
Written by Dani (Glitter Frosting on May 18, 2007) for PSP 8 and higher.
1. Open a new canvas 200×200 px at 72 dpig!
2. Select the text tool and have it set to "floating"!
3. Pick a readable font and write your text!
4. Promote the selection of the writing to a new layer!
5. Select the erasor too and delete your writing!
6. Now lets drop a shadow, so we can see what we wrote!
7. Apply the following settings!
And there you have it! Add your watermark as a new layer to all your tags!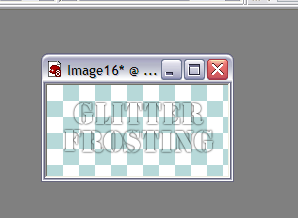 Hugs
Dani!