GLOWING TEXT EFFECT WITHOUT PLUGINS
Written by Dani (Glitter Frosting on August 20, 2008) in PSP XI.
Do you want to spice up your text with the latest "glow-effect" trend, but don't have money to buy plugins like eyecandy, this one is for you!
1. This will work best with bold fonts.
Select your text tool and type, using white as your fill and the glow color as the stroke color.
Mine is pink! Set your stroke to 2.
2. Go to Effects –> 3D Effects –> Inner Bevel and apply these settings: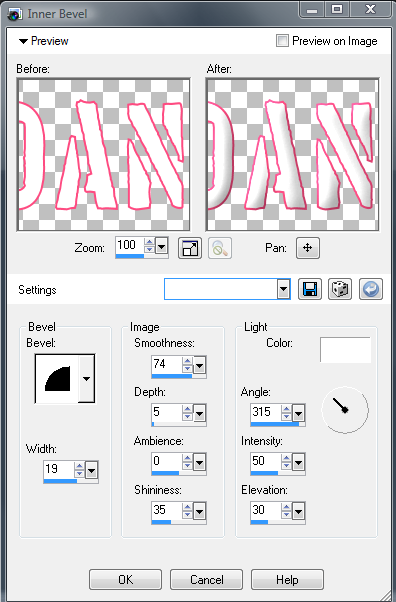 3. Lets enhance the glow some more. Go to Adjust –> Hue and Saturation –> Colorize
and apply your glow shade (for me it's pink – what a surprise, huh?)
4. Now some real glow. Go to Effects –> 3D Effects –> Drop Shadow
and apply the following settings, using the same color that your stroke/outline was for the shadow:
5. And because this was so easy we do it again and add another drop shadow, with the same settings.
6. And voila, there you have a nice glowing text and didn't use a plugin once!
Easy peasy!
Hugs