Good Morning my lovelies,
I would like to bring a new and wonderful website to your attention. It's a blog called "Blessings of a Military Life". Being a Life Coach myself, I know how important a helpful mindset is when dealing with the challenges and curve balls thrown at us.  Helpful means, it is an attitude that serves your purpose and makes your life fun and enjoyable, no matter the circumstances. Living the Military Life we all know it is one of the most challenging lifestyles for everyone involved – AND it is a Blessing too!
Blessings of a Military life focuses 100% on support, positivity and gratitude for the life we live and the people we meet. You might know the owner and founder Laura, from thepatrioticwife.com, she is an absolute gem of a person and it was my honor to create her blog layout
Come by, check it out, share YOUR positive story, give encouragement, nominate someone who is a Blessing to you.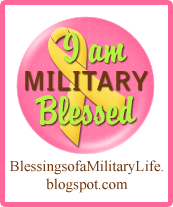 Hugs
Dani!