I love cooking and am trying out new recipes all the time. That also means I have a huge pile of lose recipes. Some are handwritten by my friends and family, some printed from the internet.
Today I am on a mission to sort them all out and bring them into order. The solution is a recipe binder I created at the Zazzle camolove store. It a has vintage sort of 1950ies look to it – reminds me of the good ole days when there was a lot of cooking in the family.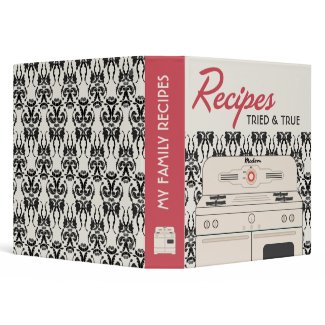 Once this beauty arrives I will use those clear protector sheets for all recipes and have them nice and cleanly put away in my binder
And if I am going all Martha Stewart I will use some tabs to make categories…maybe 😉
You can find more recipe binders here!
Hugs
Dani!